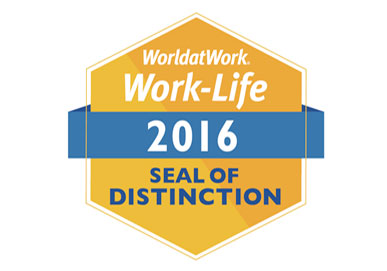 Dallas, Texas – Ryan, a leading global tax services firm, received the Work-Life Seal of Distinction award for the fifth consecutive year. This seal is given by WorldatWork, a nonprofit HR association, and recognizes organizations across a variety of industries for their commitment to employee engagement and work-life balance. This award follows the recent announcement that Ryan was ranked number one on the FORTUNE 50 Best Workplaces for Flexibility list.

"Receiving the prestigious Work-Life Seal of Distinction validates our strategy to build and maintain a world-class work culture that improves the professional and personal lives of our associates," said G. Brint Ryan, Chairman and CEO of Ryan. "Our Firm's history of revenue growth and market leadership are positive proof that a flexible work environment drives higher levels of business success."

The Seal of Distinction measures the overall strength of an organization's work-life portfolio and success. Companies were evaluated based on their work-life programs, policies, and practices that meet employees' needs to achieve work-life balance, including flexibility, health and wellness, community involvement, and more.

"We congratulate our 2016 recipients who represent a wide variety of industries, demonstrating that enhancing employee engagement and work-life effectiveness is a business imperative for organizations of all sizes and strengths. These organizations are the pinnacle of excellence in workplace strategies that enhance employees' lives," said Anne Ruddy, President and CEO of WorldatWork. "By understanding the value of investing in their employees, each organization has taken a critical step toward future business success."

About WorldatWork®
The Total Rewards Association
WorldatWork (www.worldatwork.org) is a nonprofit human resources association for professionals and organizations focused on total rewards strategies. WorldatWork and its affiliates provide comprehensive education, certification, research, advocacy, and community for members and the broader total rewards community. WorldatWork has more than 70,000 members and subscribers worldwide; over 80% of Fortune 500 companies employ a WorldatWork member. Founded in 1955, WorldatWork is affiliated with more than 70 local human resources associations and has offices in Scottsdale, Arizona, and Washington, D.C.
About Ryan
Ryan, an award-winning global tax services and software provider, is the largest Firm in the world dedicated exclusively to business taxes. With global headquarters in Dallas, Texas, the Firm provides an integrated suite of federal, state, local, and international tax services on a multijurisdictional basis, including tax recovery, consulting, advocacy, compliance, and technology services. Ryan is an 11-time recipient of the International Service Excellence Award from the Customer Service Institute of America (CSIA) for its commitment to world-class client service. Empowered by the dynamic myRyan work environment, which is widely recognized as the most innovative in the tax services industry, Ryan's multidisciplinary team of more than 4,100 professionals and associates serves over 21,000 clients in more than 60 countries, including many of the world's most prominent Global 5000 companies. More information about Ryan can be found at ryan.com. "Ryan" and "Firm" refer to the global organizational network and may refer to one or more of the member firms of Ryan International, each of which is a separate legal entity.
MEDIA CONTACT
Stacey Underwood
Senior Manager, Content, Communications, and Public Relations
Ryan
972.934.0022
stacey.underwood@ryan.com